A delightful, refreshing pie for 8 persons.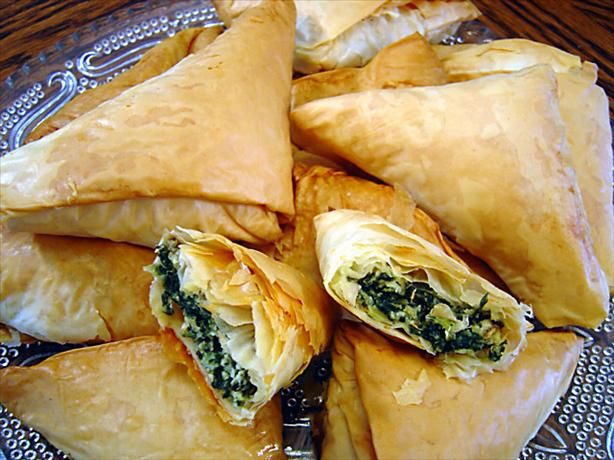 You will need:
Filo pastry (remove from freezer 1 hour in advance)
Feta (250 grams)
Dill - finely chopped
Red pepper - chopped without the white seeds (or leave them in, if you like it spicy)
Leek (1 pcs) - finely sliced and browned in some butter until soft
Spinach (about 500 grams) - wilted and squeezed dry in a clean (tea) towel
Ei (1) - lightly beaten
Butter - melted
Nutmeg - preferably freshly grated
Pepper and salt
Sesame seeds, to taste
Preheat the oven to 200 degrees. Grease a baking tin of your choice.
Mix the feta, dill, pepper, leek, spinach and egg. Season with nutmeg, salt and pepper.
Line the tin with half of the filo pastry. Coat each sheet with melted butter. Spoon the filling over the pastry and top it of with the remaining filo pastry, tuck it in. If you like, you can sprinkle it with sesame seeds. Bake for 20-25 minutes in the oven until the pastry is golden brown.
Variation: Take one filo sheet and spoon some filling on it. Rol it up as a triangle or as a little 'cigar'. Sprinkle with sesame seeds.
© Life is a Picnic