for about 6-8 persons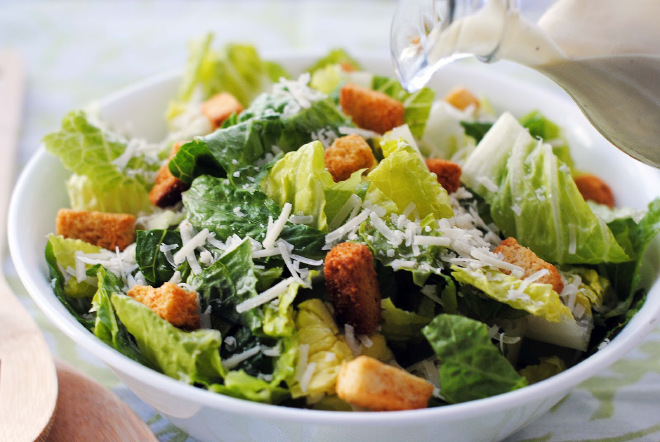 You will need:
coss lettuce
a piece of focaccia bread
garlic (2 cloves)
anchovy Fillets (8 strips)
parmesan cheese (piece)
yolk of one egg (replace for pasteurized egg yolk when serving the elderly or pregnant guests)
worcestershire sauce
mustard powder
olive oil
sunflower oil
lemon juice
pepper and salt
For the croutons:
Preheat the oven to 200 degrees. Cut the focaccia into cubes and toss with a little olive oil and 1 pressed clove of garlic. Heat in the oven until crispy (about 10 minutes). Take them out of the oven and sprinkle with some salt. Leave to cool and store in a container or bag.

The dressing:
Cut the parmesan cheese (50 grams) into cubes and place in a blender. Add the egg yolks, 2 anchovy fillets, ½ teaspoon of worcestershire sauce, 1 clove of garlic, ½ teaspoon mustard powder, 1 tablespoon lemon juice, pepper. Blend and slowly add 100 ml of olive oil and 50 ml of sunflower oil. Finish to taste.

The lettuce:
Remove the core of the lettuce. Tear the lettuce leaves, rinse well, dry and tear into bite-sized pieces. Keep in the refrigerator so it will remain crisp.
Some final bits and pieces:
Cut some anchovy fillets (about 6 pieces, to taste) into pieces of 1 centimeter and store in a separate bag.
Grate some parmesan cheese with a vegetable peeler and also store in a bag.
To finish:
Divide the lettuce leaves on plates, pour over the dressing, then finish with the anchovy fillets, croutons and parmesan curls.
© Life is a Picnic