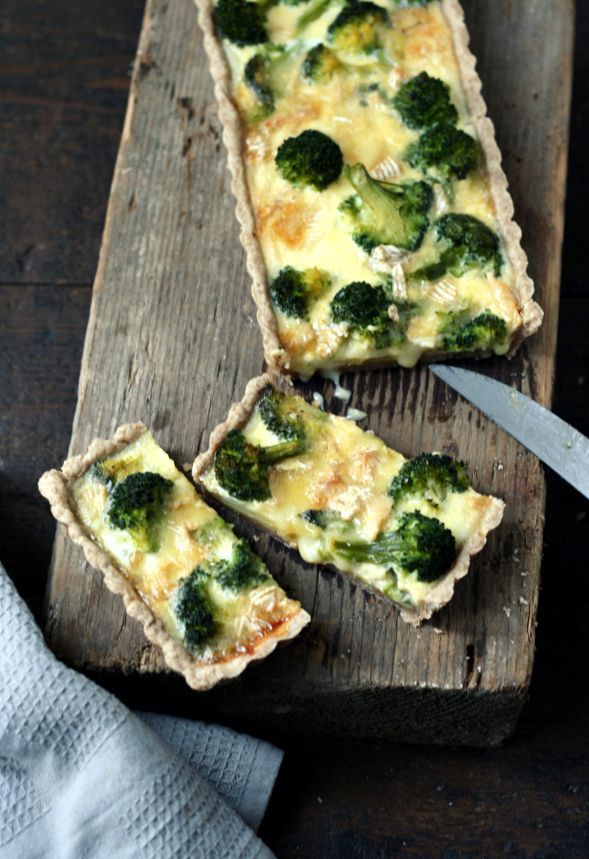 This is a recipe from the Allerhande (Albert Heijn), but I have changed it to my own taste.
You will need:
4 tablespoons of sunflower oil
300 gram soft quark cheese
300 gram flour
1/2 teaspoon of salt
bread crumbs
400 gram broccoli
3 eggs
pepper
6 tablespoons of creme fraiche
fresh chives (half a package)
100 gram cashew nuts
150 gram camembert
100 gram gorgonzola
rectangular baking tin 26 cm
Grease the baking tin with 1 tablespoon of the oil. Stir the the quarck with the remaining 3 tablespoons of oil. Sieve the flour and salt over the quark and stir. Knead into a smooth dough with cool hands (or use a blender or electric mixer with dough hooks). Sprinkle your countertop and rolling pin with some flour. Roll the dough to a thickness of 1/2 cm and drape it into the baking tin. Let it rest in the refrigerator (at least 30 minutes). Blind bake the bottom for 15 minute (with parchment paper and dried beans/rice). Remove the paper and beans/rice and let it bake for another then 10 minutes. Sprinkle the bottom with some breadcrumbs (this soaks up any liquids so you won't have a soggy bottom).
Preheat the oven to 200 degrees.
Meanwhile, cut the broccoli into florets and cut the stumps into slices. Bring a little water to the boil in a saucepan and season with salt or with some stock cube. The stumps take a bit longer than the florets (I cook the slices for 6 minutes in total, adding the florets after 3 minutes). Drain in a colander. Break the eggs in a small bowl and mix with salt, pepper and creme fraiche. Cut the chives finely and stir through the egg mixture. Roughly chop up the cashew nuts. Cut the camembert and gorgonzola into small pieces. Distribute the broccoli over the pie crust. Followed by the cheese and cashew nuts. Top it with the creamy mixture, and mill some pepper over it. Bake in about 15-20 minutes until golden brown. Let it stand to rest for about 10 minutes.
For a picnic it can also be a good idea to bake miniature tarts. In that case you cut circles that fit your muffin tin and fill them individually. Baking takes about 10-15 minutes.
© Life is a Picnic