A recipe from the BBC program The Hairy Bikers: Mums Know Best. This soup is by Nassira Jmil. A deliciously warming soup - take along in your thermos and serve with a Mediterranean picnic.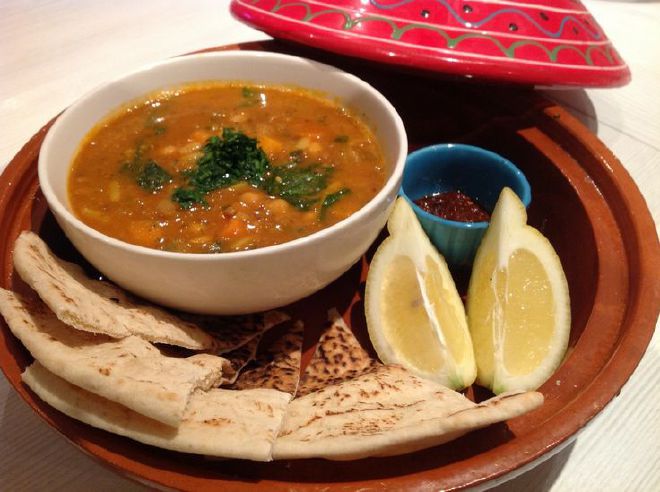 You will need:
2 tablespoons of sunflower oil
1 large onion, finely chopped
1 clove of garlic
300g of lamb, cubed
2 stalks celery, finely chopped
1 carrot, finely chopped
100 grams of dried chickpeas (put to soak overnight)
3 teaspoons of salt
1 teaspoon of freshly ground black pepper
2 teaspoons of ground ginger
1/2 teaspoon of turmeric
1 tsp of mild curry powder
100 grams of lentils
bunch of parsley, finely chopped
bunch of coriander, chopped
400 grams passata
1 cube of beef broth
1 teaspoon of cinnamon
50 grams of vermicelli
3 liters of water
corn flour (1 tablespoon mixed with water, add to desired thickness)
1 lemon, cut into wedges
Turkish bread, to serve with it
Pour the oil in a large frying pan and fry the onion and the meat briefly. Add the celery, carrot and all the spices except the cinnamon. Stir well and add a few cups of water. Bring to a boil, reduce the heat and let the mixture simmer gently for 30 minutes. Add the lentils, fresh herbs, chickpeas and passata and cook until the chickpeas and meat are tender. Add, if necessary. some water, add the stock cube, cinnamon and vermicceli. Thicken with corn flour, little by little, until you have the desired thickness. Cook for about 10 min, stirring occasionally. Serve with lemon and Turkish bread.
Life is a Picnic