Beware of your waistline, because you can't stop eating these delicacies! A success-recipe from Brownie Bliss by Linda Collister. These are not brownies, but blondies because they are made with white chocolate.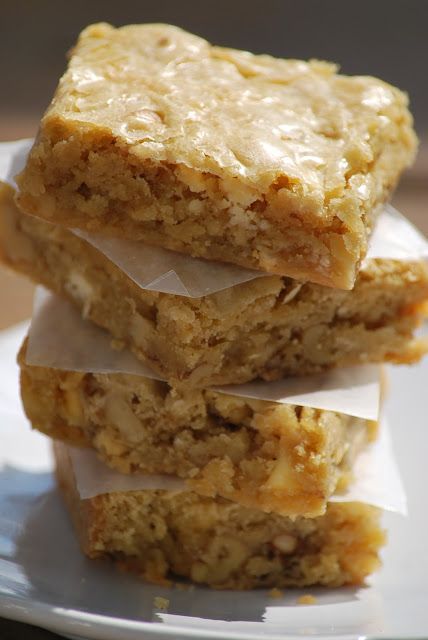 You will need (for 20-25 squares):
175 grams of white chocolate (you will need 275 grams in total)
115 grams butter
100 grams granulated sugar
2 eggs, lightly beaten
1/2 teaspoon vanilla extract
130 grams flour
1/2 teaspoon baking powder
150 grams macadamia nuts, coarsely chopped
100 grams white chocolate, coarsely chopped
brownie tray (the HEMA one, for example, is very handy)
Preheat the oven to 180 degrees. Break 175 g chocolate into a bowl, cut the butter into cubes and melt au bain marie. Pour into a mixing bowl and stir in the sugar. Lumps do not matter. Stir through the egg and vanilla extract and beat for 1 minute until it is glossy and smooth. Mix in the flour and baking powder. Followed by 100 grams of the nuts and all of the chopped chocolate. Pour into the tray and sprinkle with the remaining nuts. Bake 25-30 minutes. Will keep for four days in a tin, but they have never lasted that long in our place...
From: Life is a Picnic