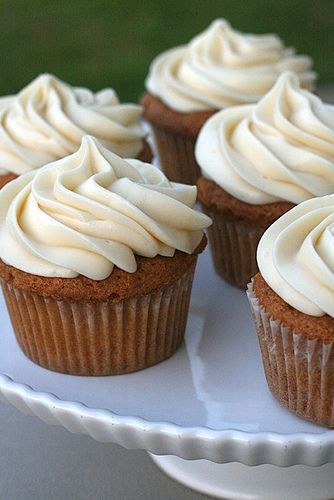 for 24 cupcakes
You will need:
110 grams pecans or walnuts (chopped)
340 grams of carrot (grated)
280 grams of flour
1 teaspoon baking soda
1½ tsp baking powder
½ tsp salt
1 teaspoon cinnamon, ½ teaspoon nutmeg, ½ teaspoon cloves
4 large eggs
300 grams of granulated sugar
240 ml of sunflower oil
2 teaspoons vanilla extract
glaze:
50 g of unsalted butter (at room temperature)
225 grams of cream cheese (at room temperature)
165 grams of icing sugar (sieved)
1 teaspoon vanilla extract

Preheat the oven to 170 degrees hot air (190 degree conventional oven). Line two muffin trays with muffin cups (24 in total). Chop the nuts coarsely or finely, whatever you prefer. Clean the carrots and grate them. Mix in a bowl the flour, baking soda, baking powder, salt and spices. Set aside. Beat the eggs until frothy (3-4 minutes). Add the oil in a trickle. Add the vanilla. Add the flour and stir briefly until just blended, do not mix for too long. With a spatula fold in the nuts and carrots. Divide the dough (with an ice scoop) over the muffin tins. Bake for 20-25 minutes. Meanwhile, make the glaze by mixing the cream cheese with the butter, slowly add the powdered sugar and the vanilla extract. Let the cakes cool on a rack and spread the icing over the cupcakes.
Variation: top off with a caramelized walnut or pecan or decorate it with a marzipan carrot.
© Life is a Picnic