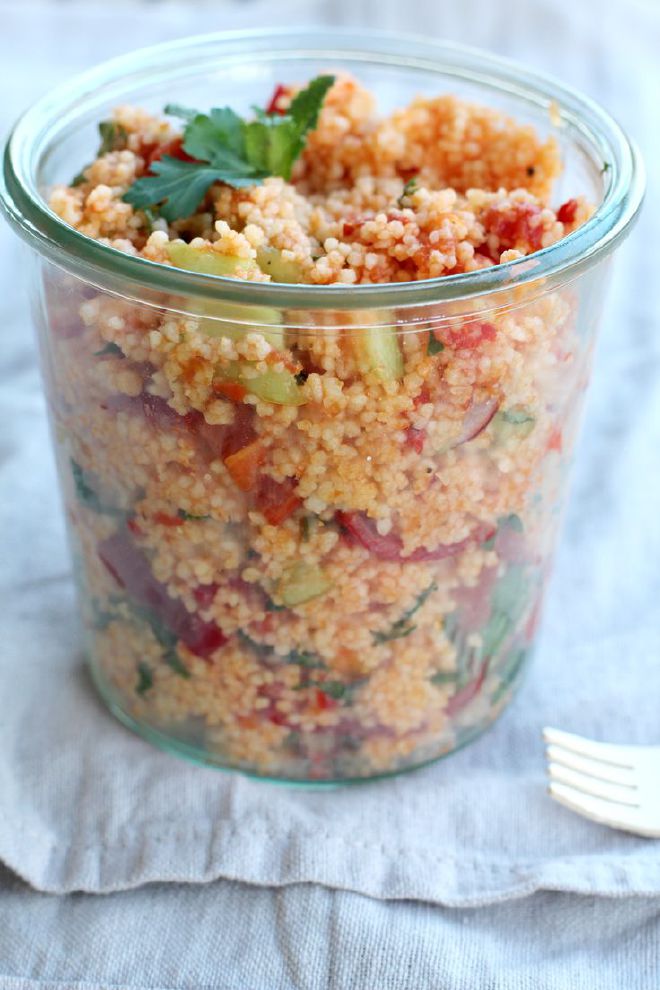 You will need (for 8 persons):
400 gram couscous

dressing:
2 cloves of garlic, grated
1 onion, chopped very finely
1/2 teaspoon of cinnamon
1/2 teaspoon of cumin
1 tablespoon of lemon + zest (keep some slices for garnish)
2 tablespoons of olive oil
pepper and salt
1 teaspoon of honey
1 red pepper, deseeded and finely chopped
fresh mint and coriander (keep some for garnish)

filling:
8 dried apricots, in small pieces
12 black olives, stoned and in little disks
1 roasted red pepper (shop bought), in ribbons
1/2 yellow pepper, in small pieces
1/2 cucumber, skin on, deseeded, in small cubes
handful of toasted almonds
Prepare the couscous according to the package directions. Mix in some olive oil and spread it out in a shallow dish so that it can cool down quickly.
The filling:
Prepare the vegetables, nuts and fruits for the filling, mix and set aside.

The dressing:
Mix all ingredients for the dressing; Add the coriander and mint just before serving.

The salad:
It can't be simpler: mix the filling with the couscous and the dressing. Garnish with the lemon wedges, mint and coriander. You could also bring over some harissa, so that people can adjust the heat.
© Life is a Picnic