For 6 persons (1 liter)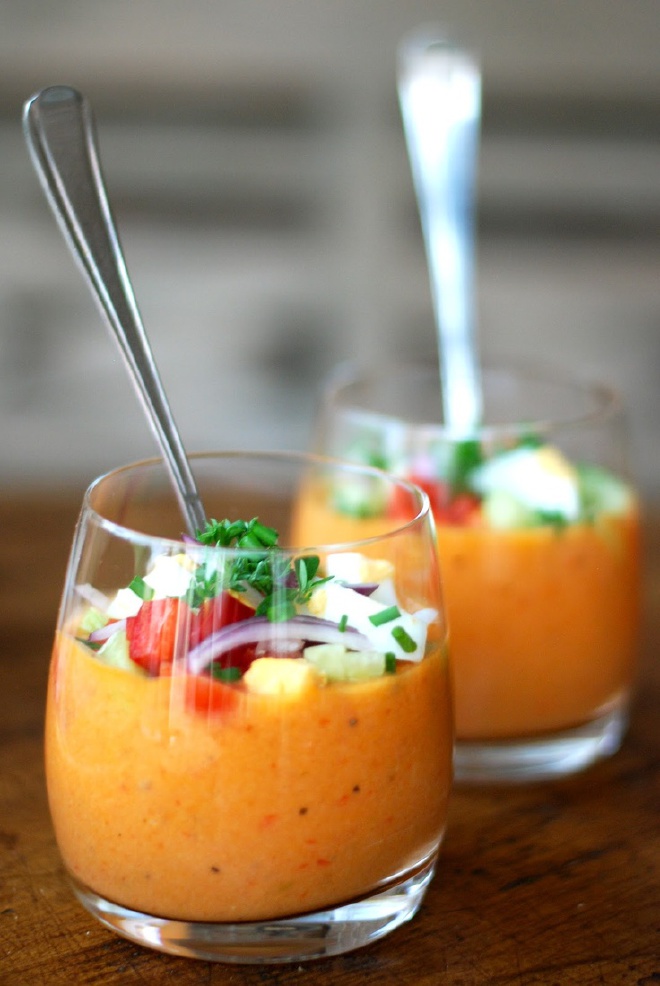 You will need:
75 grams of white bread, crusts removed
10 tomatoes (+ 3 for garnish)
1 green pepper, peeled and chopped (+ 1/2 for garnish)
1/2 cucumber, seeded and sliced ​​(for garnish + 1/2)
1/2 onion (+ 1/2 for garnish)
2 cloves of garlic
70 ml of olive oil
2 teaspoons of salt
1/4 teaspoon of cumin
4 tablespoons of lemon juice
1 tablespoon of white wine vinegar
pinch of cayenne pepper
1 teaspoon of sugar
if necessary. some water
Peel the tomatoes and remove the seeds. Put them in the blender along with the pepper, cucumber and garlic. It is up to you, you can choose a crunchy or smooth version. For the crunchy version you keep 1/4 share behind and press 3/4 through a sieve. For the smooth version you push everything through the sieve.
Soak the bread briefly in water, squeeze and put in the blender. Slowly add the olive oil. Season with salt, cumin, lemon juice and vinegar. Blend with a few spoonfuls of the tomato mixture and add to the rest of the tomato mixture. You may want to dilute it a bit with water. Season with salt and pepper, cayenne pepper and sugar. Serve with a garnish of diced tomato, pepper, cucumber and onion.
Life is a Picnic