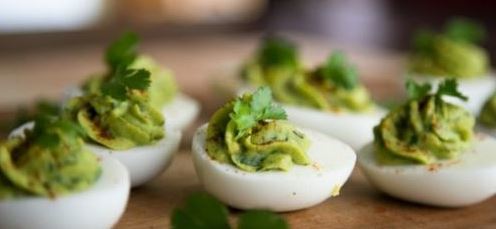 Very 70s! Adapted from a recipe from the Allerhande.
You will need (for 20 halves):
10 eggs
1 tomato
1 clove of garlic
1 shallot
1 avocado
1 piece of cucumber (ca. 3 cm)
1 tablespoon of yogurt
ca. 2 tablespoons of lime juice
cilantro (to taste)
salt and pepper
hand blender
Hard boil the eggs in about 10 minutes. Skin the tomato, remove the seeds and mash the flesh. Rinse the eggs under cold water, peel and halve lengthwise. Remove the egg yolks, put them in a seperate bowl and mash them up. Peel the garlic and add the zest to the yolks. Peel the shallots and chop finely. If necessary, wash the cilantro and chop finely. Half the avocado, remove the pit and chop the flesh. Peel and chop the piece of cucumber. Blend the avocado and cucumber for a couple of seconds. Mix the shallot, tomato, cilantro, cucumber, avocado and yogurt with the egg yolks until smooth. Season with lime juice, and pepper and salt and your guacamole is ready. Fill the egg halves with the guacamole (you will get the best results using a piping bag). A delicious, fresh bite. Perhaps less suitable for a picnic unless you fill the piping bag with the guacamole, keeping the bag whole and transporting it cooled. Then you could fill up the egg halves on the spot.