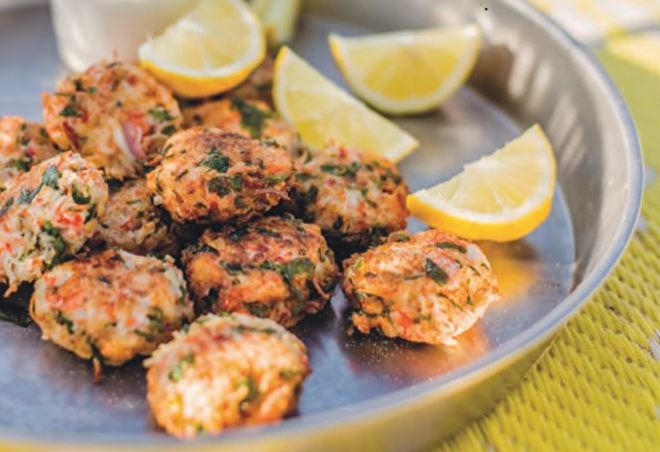 These delicious crab cakes are from the cookery book Food en Route by Charlotte Fielmich, also known as 'Madame Charlotte'. Photography by Saskia Lelieveld. You can order Food en Route for the price of € 18,99 at Uitgeverij Snor.
200 g crab meat or surimi
1 egg
3 tbsp bread crumbs*
2 tsp mustard (e.g. Dijon)
2 tsp green Tabasco
1 handful of flat parsley, finely chopped
2 tbsp chives, finely chopped
olive oil

* Preferably use course bread crumbs - they soak up the liquid better and provides you with firm cakes. Japanese Panko, coursely chopped 'beschuitjes' or coursely blended stale bread are perfect.
Mince the crab meat with a big kitchen knife or blend by pulsing it till it resembles some sort of mince meat; this helps to incorporate all the flavours. Mix the crab meat, egg, bread crumbs, mustard, Tabasco, parsley and chives and knead it to a firm mixture. Form balls with damp hands (the size of a big walnut) and pat them down a bit. Leave the crab cakes to rest for at least half an hour in the fridge. Heat 3-4 tablespoons of olive oil in a frying pan and bake the cakes on medium heat on both sides within 10 minutes golden and well-done. Leave them to cool and keep them in the fridge till you are ready for your picnic.
Serve with oven baked garlic-mayo. Mix 8 tbsp of mayonaise with 3 finely chopped garlic (remove the peel), a pinch of salt and a squeeze of fresh lemon juice.
How to carry it with you: put your crab cakes in a lockable storage box, preferably in a cooler bag. Mix the mayo immediately in a lockable (jam)container and keep it in the fridge till you are ready to go.