appetizer for 6-8 persons
From: Tisvis, Albert Heijn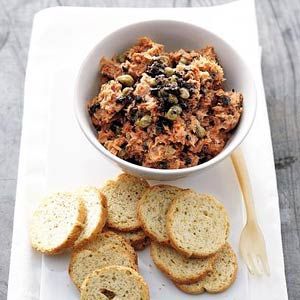 You will need:
1 can of tuna in oil
3 tablespoons sun-dried tomato tapenade
crushed chillies (milled)
1½ tbsp capers, rinsed and drained
1½ tablespoon black olives, pitted, chopped​
Preparation:
Put the tuna with the oil in a bowl and mince it with a fork. Mix with the tapenade and bring to taste with the chillies. Mix in
1 tablespoon of capers and half of the olives. Spoon the tuna tapenade in a small bowl and sprinkle the rest of the capers and olives on top. Leave the flavors to marinate for at least 30 minutes. Serve at room temperature on (toasted) bread.
Life is a Picnic